Three new features in the Payconiq by Bancontact app that make shopping and paying easier
Users of the Payconiq by Bancontact app have long known it: this clever app makes paying for things so much easier. Not just between friends, but also online or when you're in a store. Payconiq by Bancontact is a fast and secure method of payment that is also entirely contactless – which is something people are finding very important at the moment. But Payconiq by Bancontact is more than just a payment app and these three new features are designed to make the whole shopping experience a good deal simpler and more enjoyable.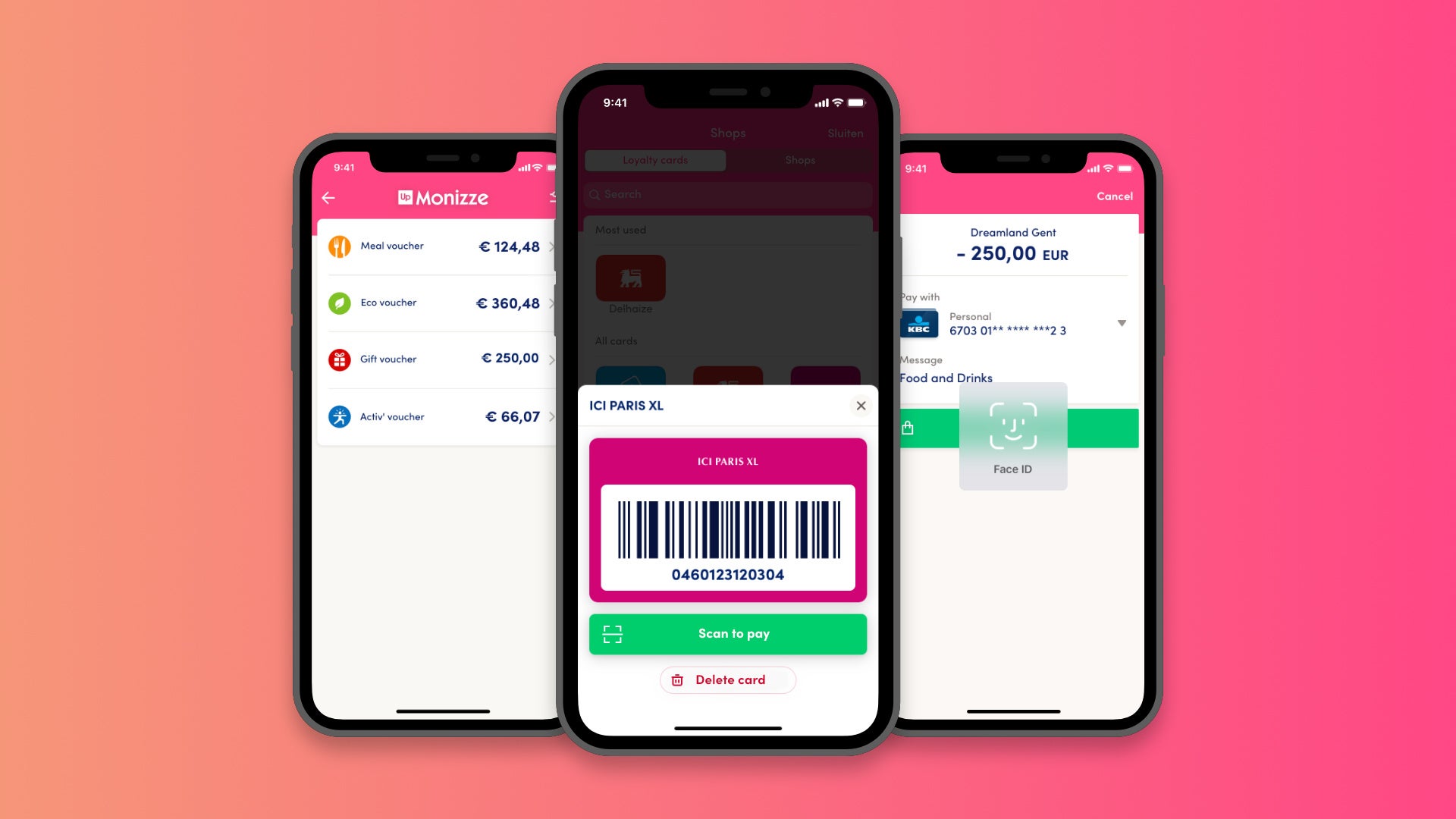 Loyalty cards in the app
Well, you can say goodbye to that moment of panic when customers are scrabbling in their bag or wallet looking for them, because now it's possible to store loyalty cards in the Payconiq by Bancontact app. Customers can simply use the 'Shops' button to add their loyalty cards quickly and easily by scanning the QR code of their loyalty card or by entering the code manually. Once they've done that, users only need the Payconiq by Bancontact app to present their loyalty card and settle up.

Check your Monizze balance
Lots of workers and employees in Belgium receive meal vouchers, or eco-vouchers and vouchers to use for gifts, sport and culture as extra-legal advantage. Viewing the balances of those vouchers is now easy for Monizze customers who can find it in the app.
Users with a Monizze account can add it to the app by going to 'Services' in Payconiq by Bancontact. And once the account has been added, they can view the balances of their various vouchers, broken down by type of voucher (meal vouchers, eco-vouchers, gift vouchers and Activ' vouchers, if applicable). Which makes it easy to see everything – all in a single app. Note it is not yet possible to make payments with the vouchers via the Payconiq by Bancontact app.

Smoother payments with fingerprint or facial recognition
Users who have a device capable of using fingerprint or facial recognition can now also activate this feature in the Payconiq by Bancontact app. This means that entering a PIN code, which the app used to ask for, is no longer necessary for these users. Simply scan the face or fingerprint and the payment is securely paid. You can switch on the scanning function via 'Settings' in the Payconiq by Bancontact app itself.