The Royal Belgian League for Bird Protection 'nid you'
Flash back to March this year, when we launched the contest for charities to boost their fundraising. We called on Belgian charities to participate to the contest. The price? A 7-day promo campaign on more than 1.OOO advertising screens operated by JCDecaux. This summer, keep an eye on the Scan for Change posters in your streets.
Congratulations Royal Belgian League for Bird Protection, winner for the Walloon region
'We nid you', pun intended by the Royal Belgian League for Bird Protection (LRBPO). This playful copy caught our eye while selecting the winners for the Scan for Change contest. While it's pronounced as 'need' in English, in French it also means 'nest'.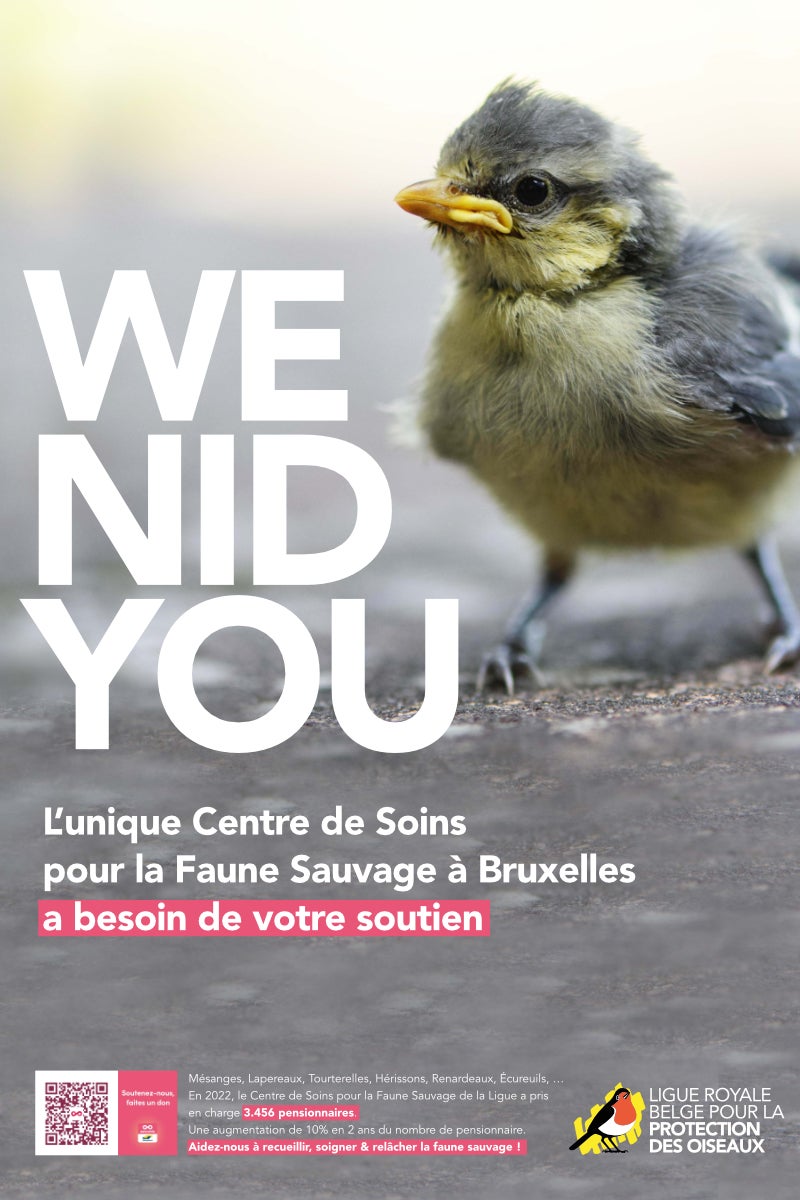 The LRBPO runs the only wildlife care centre in the Brussels region. It goes without saying that running a wildlife care centre in a capital of over a million inhabitants, is a constant challenge.
Their dedicated work started over 30 years ago. And just like in a hospital, their work is never over. After all, they work with living creatures. Emergencies occur, new patients are constantly being brought into the centre. The league relies mainly on donations to cover the costs to treat and care for the birds.
Natalia Grega, head of communication and marketing at LRBPO: "Fundraising is always a major challenge for non-profit organisations, and particularly so for an activist organisation such as ours. Since the beginning, LRBPO has chosen to limit subsidy from the various governments to remain its independency."
"We are thrilled to be announced as Walloon winner of the Scan for Change contest!", Natalia continues. "Getting this kind of visibility gives us the opportunity to raise awareness among a very wide audience about the protection and well-being of wildlife. Moreover, it enables people in every corner of the Walloon region to play their part in protecting birds and saving wildlife in Belgium."
So now, they 'nid' you to ensure they can keep up their work in modern facilities. Where animals can be cared for and rehabilitated in the best possible way. In their Scan for Change campaign, they successfully caught our attention with humour, while the bird left us in awe.
The poster will be visible on 500 screens in Wallonia from 25th of July.
'We nid you', also in the Payconiq by Bancontact app
During the duration of the campaign, people can donate directly to one of the three winning charities via the Payconiq by Bancontact app. Navigate to 'services' in the app. Then, click on 'donations'.
Discover the Scan for Change winning campaigns
In March 2023, we called on Belgian non-profit organisations to enter a fundraising campaign which integrated the Scan & Donate service from Payconiq. We received entries from all over Belgium. From medical charities to nature preservation organisations, they went far and beyond to convince us of their fundraising campaigns.
Together with an independent jury from JCDecaux, we selected 3 winners. Based on creativity, strategy, and the integration of the Payconiq QR code, the jury assigned points to each campaign.
The three winning campaigns of the first Scan for Change contest are:
River Cleanup: 'Happy plastic birthday'
TWERK: 'Scan Sven'
League for Bird Protection: We 'nid' you
Keep an eye on our news site and the posters in your streets and donate to your preferred charity.