Scan for Change: giving non-profit organisations a hand
Flash back to March this year when we launched the contest for charities to boost their fundraising. We called on Belgian charities to participate to the contest. The price? A 7-day promo campaign on more than 1.OOO advertising screens operated by JCDecaux. This summer, keep an eye on the Scan for Change posters in your streets.
A quick recap of the charity contest to refresh your memory
There are over 2.000 non-profit organisations in Belgium. Many of them rely solely on voluntary workers and fundraising. With limited budgets, it's not straightforward for them to advertise and to raise awareness and funds for their organisation and their work.
That's where we wanted to make a change. To take on this challenge, we joined forces with JCDecaux. As an established expert in out-of-home advertising, they offered access to more than 1.000 screens free of charge.
Wim Jansen, CEO at JCDecaux Belgium: "As contributing to a positive impact on the society is part of our strategic ESG objectives, we are really happy to join forces with Bancontact Payconiq Company to support this great initiative. We are confident that the power of out-of-home communication can be part of the difference made for TWERK."
Creating buzz: check
Easy fundraising? Enter 'Scan & Donate', a payment service from Payconiq
Thanks to Scan & Donate, people can easily donate to their charity of choice. Non-profit organisations can create their own Payconiq QR code, which is linked to their bank account. To donate, people simply scan the QR, enter their data for the tax certificate for donations of €40,- and above, enter the amount and confirm with their pin or biometrics.
"I work with charities for years now, and I was so very happy to be able to present them our new product Scan & Donate.", says Eva De Mey, Development manager Event & Charity at Bancontact Payconiq Company. "The reactions were more enthusiastic than we could imagine, which confirms the actual need for this type of product."
BEEP! The charity contest was born: Scan for Change
We asked non-profit organisations to create a fundraising campaign which included the Payconiq QR code. To compete, charities were asked to create some advertising materials, such as a poster and an elevator pitch as to why they believe their charity should win the 7-day promo campaign.
Eva continues: "For this year's Scan for Change contest, we relied on the strength and creativity of the charities and their capability to create an impactful fundraising campaign. Seeing the beautiful and original contest submissions, we obviously made the right choice!"
3 winners: 1 for Belgium, 1 for Wallonia and 1 for Flanders
Last call for the contest was on 30 April 2023. We received entries from all over Belgium. From medical charities to nature preservation organisations, they went far and beyond to convince us of their fundraising campaigns.
Together with an independent jury from JCDecaux, we selected 3 winners. Based on creativity, strategy, and the integration of the Payconiq QR code, the jury assigned points to each campaign.
The three winners of the Scan for Change contest are now chosen: 1 organisation won National coverage, 1 regional coverage in Wallonia and 1 regional coverage in Flanders.
Congratulations TWERK, winner for Flanders' region
The fundraising campaign of TWERK immediately blew us away. Even though they are a small organisation, they managed to create a full-blown campaign oriented around the character of 'Sven'. Via their campaign, they ask people for a donation to show that they care about autism.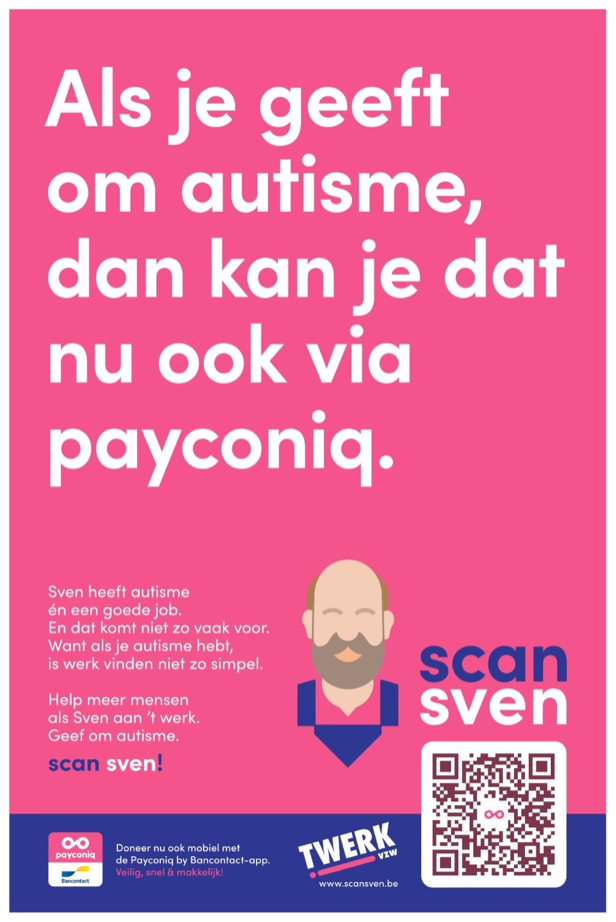 TWERK, based in Herentals, offers people diagnosed with autism a safe and fun place to develop their talents and skills. Being the smallest tailor-made workplace in Flanders, they foresee in a meaningful daytime job.
Founded in 1992, they started their activity for only 3 people diagnosed with autism, supported by 1 ergo therapist. Flash forward to 2023, a team of 8 qualified care takers assist and support 35 people diagnosed with autism.
"Fundraising makes up an important part of the investments in our organisation", explains Bart Michiels, marketing and communication coordinator at TWERK. "Needless to say, we could not pass up this opportunity to compete in the Scan for Change contest."
"Being a small organisation, our communication budget is rather small. So, for the creation of our Scan for Change campaign, we set to work with the resources at hand. Our enthusiastic team at TWERK crafted a concept starring Sven, one of our employees. Over the next few weeks and months, Sven will pop-up on our posters and other campaign assets as the protagonist of our campaign."
"We are thrilled to be one of the winners of the Scan for Change contest. It will surely help us in our fundraising, and this recognition makes us very proud.", concludes Bart.
The campaign 'Scan Sven' will be visible on 500 screens in Flanders from 11th of July. The 7-day promo is the kick-off of a bigger campaign. Their mission is to create more meaningful jobs for people diagnosed with autism. Thanks to the Scan for Change contest, they can now create awareness and boost fundraising to expand their activities.
Our mission aligns with the warm-hearted Belgians
We are dedicated to bringing payment experiences which are easy-to-use and meet the needs of Belgians of today. A study reveals that 56% of Belgians donated to charity in 2022*.
We want to enable them to support local charities. That's why we launched Scan & Donate. This gives non-profit organisations a hand in fundraising. With this payment service, we also aim to lower the threshold to donate, by making it easier for charities to deliver tax certificates for donations of €40,- and above.
Cherry on the cake; during the duration of the campaign, people can donate directly to the three winning charities via the Payconiq by Bancontact app. Navigate to 'services' in the app. Then, click on 'donations'.
The charities that won for Belgium and Wallonia will be announced as soon as their 7-day promo campaign starts. So, keep an eye on our news site and the posters in your streets.
* Survey conducted by the King Baudouin Foundation