Donate €2 to charity with Scan for Change
At the beginning of October, the Scan for Change campaign starts. An innovative way to donate small amounts to charities. Thanks to the Payconiq by Bancontact app, you can easily make a 2 euro donation by scanning a QR code. The initiative launches in collaboration with the King Baudouin Foundation and aims to stimulate a new way of collecting funds and above all to raise awareness of good causes among young people. 28 different charities active within 6 different social themes participate in the action. "We hope that donating small amounts will become part of everyday life," says Bancontact Payconiq Company.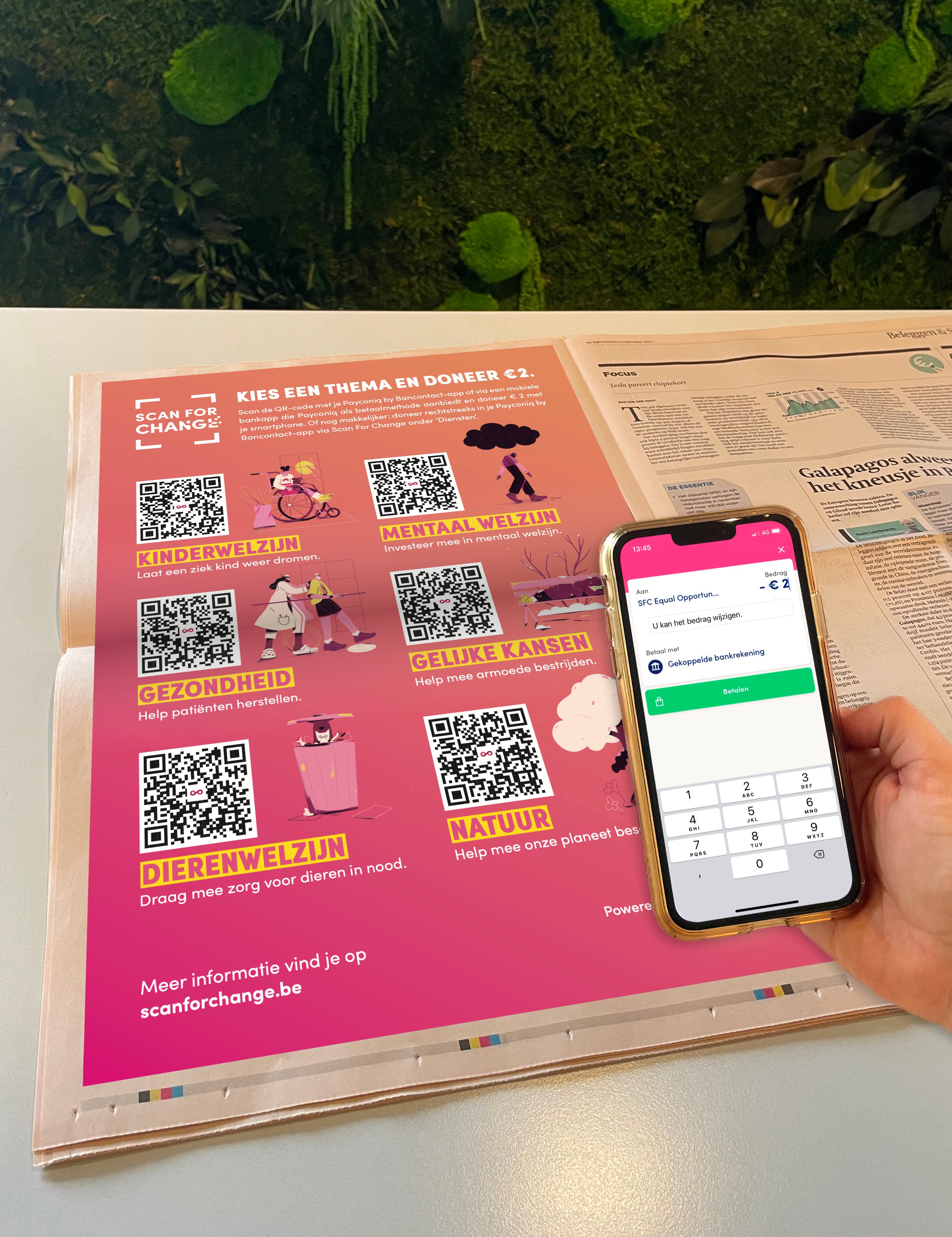 Two years ago, Bancontact Payconiq Company launched the first edition of Scan for Change, which allows you to make micro-donations of 2 euros. Today, Bancontact Payconiq Company is giving a new boost to mobile donations. In October, the second edition of the Scan for Change campaign will start. Donating is easy by scanning a QR code in the newspaper during the weekend of 9 and 23 October with the Payconiq by Bancontact app, on the Scanforchange.be website or via the Payconiq by Bancontact app itself, under "Services" (in this case, it is not necessary to scan a QR code). Easier than the classic bank transfer, which keeps many people from making a small donation. After the October campaign, it will still be possible to make a donation via the app and the Scanforchange.be website: November and December are the months in which Belgians most often support a good cause.
6 SOCIETAL THEMES
Scan for Change's autumn action focuses on six themes: health, poverty, nature, animal welfare, child welfare and mental wellbeing (see below). This last theme was added following the coronavirus pandemic which affected the mental or psychological balance of many people. All donations are collected by theme and distributed equally among the participating charities under the specific theme. Each donation is entirely transferred to the charity. The action is carried out in collaboration with the King Baudouin Foundation.
Read the full press release here.